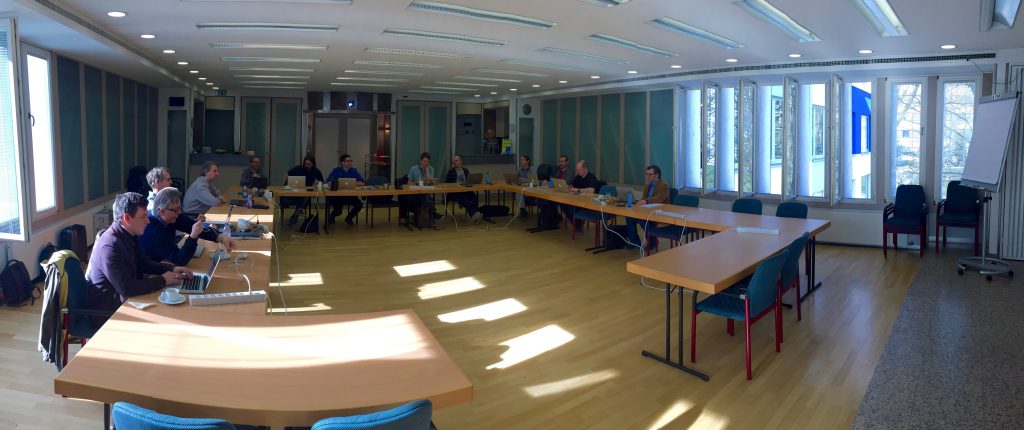 And all of a sudden it's just 8 weeks before the end…. We've deliberately planned our last working meeting to be held at IRT in Munich, as this will also be the venue for our final workshop on May 15th.
And so the final planning of this event was one of the main tasks during the two days meeting. We're really excited and encouraged, as until now already more than 100 participants have registered  (so if you haven't done so yet, you better hurry up and go here).
By now, most of the operational tasks of our project have been concluded. Only 'pilot phase 2 – Enhanced object-based audio for online demand' is still running. Here, we've focussed on developing the "variable length feature" for some of our demo productions. This has also been successfully implemented in a beta version of our app just a few days ago. We will be able to deliver a major update of the ORPHEUS App after some more internal testings and evaluations.
As our public user exerience tests at JOSEPHS had been finished by the end of February, we also had a first look at the results from the test conducted there. This, too, was very encouraging (details on that will be published soon in our 'D5.6 Report on Audio subjective and User tests').
Although the ORPHEUS project will come officially to an end, all partners strive for further collaboration. First steps in that directions have just been taken with the support from the EBU:
a specification and initial version of an open source ADM Renderer has been published as EBU Tech 3388
a dedicated paper with the specification of our OBA broadcasting architecture will be published soon as EBU TR 042
a white paper from Fraunhofer IIS is under way, describing an operable profile for ADM to MPEG-H conversion
we're also investigating possibilities to set-up an 'object-based audio development platform' in collaboration with the EBU to encourage other broadcasters and content creators to explore the new possibilities
So we're heading towards the end, knowing that there are always new finishing lines beyond.